Junior Academy Play Day: Monday Mornings – Heritage Links
HOME TO THE 2014 AND 2016 MGA BOYS TEAM STATE CHAMPIONS!
HOST COURSE TO THE 2014 AND 2017 MGA STATE TEAM CHAMPIONSHIPS!
MONDAY'S AT HERITAGE LINKS IS JUNIOR DAY!!
Heritage Links has been building its junior program the past 11 years. We have been recognized as one of the elite junior programs within the state of Minnesota. Courses and clubs from within the state of Minnesota are questioning what we do and how we grow the game of golf.
This is what makes us tick. We recognize why the junior is attending our JUNIOR DAY!! Believe this, not every junior is attending for the same reason. Some attend because mom or dad make them attend. Some attend to play a weekly round with a regular 4some. Another reason is to get away from mom and dad. Others just want to get better. And then there are the hard core competitors. We analyze and help them with who and what they are. They are kids and we give them their space, within a boundary. Those boundaries are etiquette, pace of place, leave the course better than when you came, respect others and smile. We teach life lessons through the game of golf.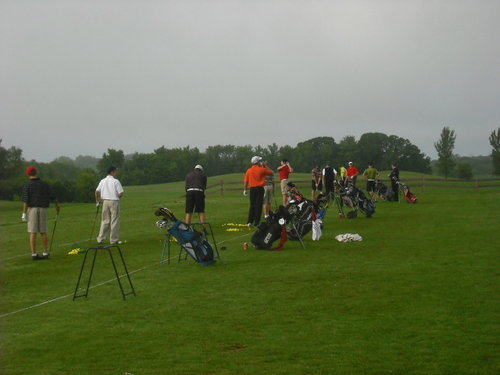 That is broad, now let's address what is going to stay the same and what is going to change for 2019. Heritage Links junior league on Monday mornings will now be called our Junior Academy Play Day, the reason for this is not only will the juniors play we are now including basic instruction for the first 6 weeks from 8am-11am .
We will emphasize basic fundamentals of grip, alignment, proper weight transfer, chipping, pitching and putting. I almost forgot, you will get a round on our "short course" for the opportunity to win prizes!! After your session, you are invited to take to the tee and put your session to the test. Our ACADEMY PLAY DAY will enroll you in an exciting national program. Heritage Links has enrolled in the YOUTH ON COURSE program. The program is a nationwide program to grow the game of golf amongst the junior golfer. Within the state of Minnesota 40 courses will be participating in the program and Heritage Links is one of them. How does it work? Make a tee time at a participating course within their designated YOC playing schedule. Show your YOC card and pay $5, or less, to play golf. Heritage will forego the $5 fee on ACADEMY PLAY DAY for those registered for the program.
Additionally as a value to the league we will have the following:
Eight weeks of course access to play 9 holes
Short course available weekly one hour prior to 1st tee time to and one hour after last tee time.
Instruction 6 weeks of junior league. We work on the grip, putting, chipping, pitching and a balance full swing.
Week eight will be Championship Day. We will have competitive games on and off course. Medals to winners of each competition. Hotdog, chips and pop for our junior golfers on Championship Day.
CLICK HERE to download the 2019 JR registration for the Junior Academy Play Day registration and sign up today.
DOWNLOAD JUNIOR REGISTRATION APPLICATION
---
DATES:
JUNIOR DAY will be 6/17, 6/24, 7/8, 7/15, 7/22, 7/29, 8/5, 8/12………The staff will determine if league is canceled due to weather. If a date is canceled a 9-hole rain check will be issued.
PAN-O-PROG 2 person scramble (TBD)
JUNIOR MATCH PLAY will happen again this year. 8/16-8/19.
We will have a small entry fee to create a prize pool.
HERITAGE CAN……… Dates To Be Determined. The premier junior event within the area.
That is who and what we are. This is what makes Heritage a home away from home for your junior!!
---
2019 JR registration the Junior Academy Play Day registration and sign up today.
Please send payment to Heritage Links or email your registration to Brett Martinson at hlgolfpro@integra.net.
If you have any questions please email Brett Martinson hlgolfpro@integra.net or call 952-440-4656.
If your looking for golf lessons try our LS Summer Camp Registration 19 or take a lesson with our teaching professionals.